Our business and medical certification programs offer multiple certifications in the following areas, all of which can be completed in as little as few weeks.
Business Office Certification Programs
Executive Administrative Assistant
Accounting Assistant
Business Information Worker
Advanced Microsoft Office Specialist
Microsoft Office Business Suite
General Office Support/Receptionist
Medical Office Certification Programs
Medical Administrative Assistant
Medical Billing & Insurance Clerk
Medical Office Classes
Medical Terminology now articulated with Los Medanos College
Medical Office Procedures using Medisoft Electronic Health Records
Electronic Health Records using SimChart for the Medical Office
Medical Records Management
Introduction to Medical Coding
Intermediate Medical Coding & Billing
Comprehensive Medical Coding & Billing
Medical Law, Ethics and HIPPA
Addiction Counselor Academy Online Distance Learning
Description: Begin a new career in as little as 6-months! The Center for Higher Purpose Online Addiction Academy is a certified Substance Abuse Counselor Training Program that grounds students with in-depth knowledge of Addiction, Recovery and provides the appropriate Skill Sets needed to work in their community. No experience is necessary. Certified Drug and Alcohol Counselors can be employed in school settings, in-patient, out-patient, or residential treatment centers, crisis centers, at correctional facilities, detox facilities, they can lead groups and teach education classes at DUI Schools, assist with 12-step recovery programs, or work in County Behavioral Health Departments anywhere in the State of California – that's right! Your skills are transferable and will follow you! The online curriculum is as easy as sending and receiving documents through email correspondence between the instructor and the student. The 20-module curriculum prepares every student for the IC&RC Statewide Certification Exam. Don't wait to start your new career, OPEN ENROLLMENT offers a self-paced, (learn-at-your-own speed) type of platform. Students engage with instructors as much or as little as needed from the comfort of home, where you make your own schedule – without any parking fees either! Get started today through Liberty Adult Education. This program is GREAT for Retirees, former Military Veterans, or Justice-impacted Individuals who want to give back or make a difference in the lives of others. Share your wisdom and knowledge as a Certified Addiction Counselor. The field is ripe for future employment possibilities in a field that will not be going away anytime soon.
CPR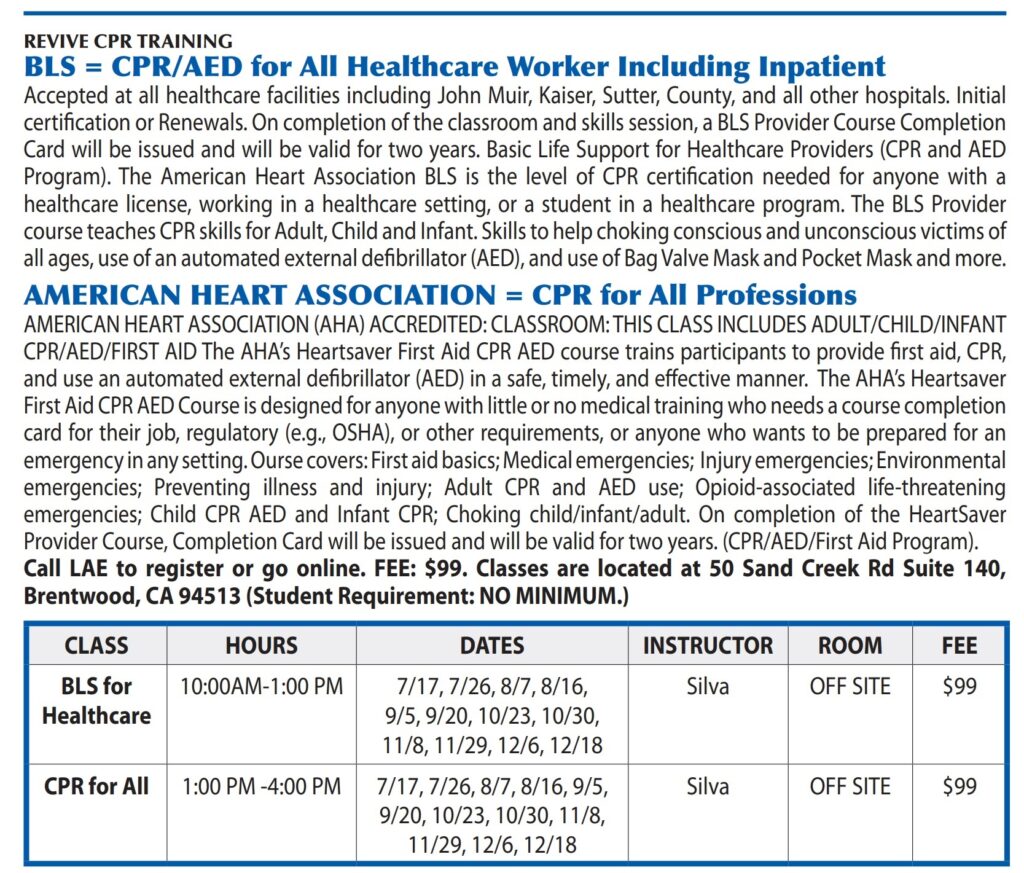 Business Certification Programs
Medical Billing & Insurance Clerk-25 Weeks
Medical Terminology
Introduction to Medical Coding
Intermediate Medical Coding & Billing
Electronic Health Records
MS Office Core
Law, Ethics and HIPPA
Customer Relations for the 21st Century
English for the Workplace
Keyboarding: 35 WPM
Medical Administrative Assistant-30 Weeks
Customer Relations for the 21st Century
Workplace Math
English for the Workplace
Medical Terminology
Medical Office Procedures
Medisoft Electronic Health Records
Medical Records Management
MS Office 2016 Core
Outlook
Keyboarding: 35 WPM
Accounting Assistant- 30 Weeks
Customer Relations for the 21st Century
Workplace Math
English for the Workplace
Computer Concepts and Windows
Word: (Beginning – Intermediate)
Excel: (Beginning – Advanced)
Accounting: I and II
QuickBooks: (Beginning – Advanced)
Keyboarding: 35 WPM
Ten-Key: 200 SPM
Executive Administrative Assistant-35 Weeks
Customer Relations for the 21st Century
Workplace Math
English for the Workplace
Word: (Beginning – Advanced)
Excel: (Beginning – Advanced)
PowerPoint: (Beginning – Advanced)
Access: (Beginning – Advanced)
Outlook
QuickBooks: (Beginning – Intermediate)
Proofreading and Editing
Records Management
Keyboarding: 50 WPM
Ten-Key: 200 SPM
Microsoft Office Business Suite-20 Weeks
Computer Concepts and Windows
MS Office Complete
Outlook
Keyboarding: 35 WPM
Advanced Microsoft Office Specialist-25 Weeks
Word: Advanced
Excel: Advanced
PowerPoint: (Beginning – Advanced)
Access: (Beginning – Advanced
Outlook
Keyboarding: 40 WPM
Business Information Worker-25 Weeks
Customer Relations for the 21st Century
Workplace Math
English for the Workplace
Computer Concepts and Windows
Word: (Beginning – Intermediate)
Excel: (Beginning – Intermediate)
PowerPoint: (Beginning – Intermediate)
Outlook
Records Management
Keyboarding: 40 WPM
General Office Support/Receptionist-20 Weeks
Customer Relations for the 21st Century
Workplace Math
English for the Workplace
MS Office Core Skills
Records Management
Keyboarding: 35 WPM
---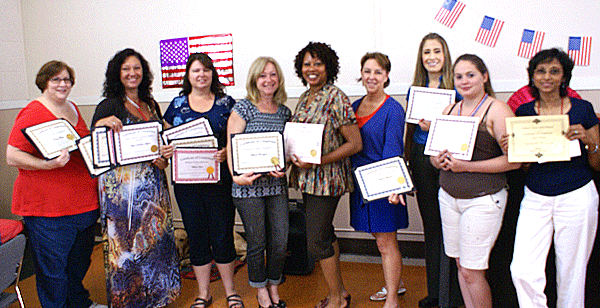 ---